There are shows you can watch while engaged in other activities. Better Call Saul is not one of them. This is a show that really asks you to pay attention. If you don't you can get easily bored. Ostensibly a prequel to Breaking Bad, it has functioned as a very different kind of show. It may be in love with the same sense of methodical process, but it avoids any of the big, badass moments that made the father series iconic. It rewards careful attention, making use of its leisurely pace to fully immerse the viewer into the moral decay of its central character. The result will be potentially heartbreaking, possibly more so than Walter White (Bryan Cranston) himself turning into a ruthless drug baron.
Season four continues the relaxed, composed tone that has characterised the series. We start, as has become a trademark of the show, with a monochrome look at Jimmy McGill (Bob Odenkirk) in his life post-Saul Goodman. And it is not all good; having just collapsed from a stroke, Jimmy's fake license nearly catches him out in the hospital, all before he convinces himself that his taxi driver —with an Albuquerque Isotopes air freshener hanging from his rearview mirror — knows who he really is. Although it looks like he is getting away this time, the message of the scene is clear: Jimmy will never be the same man again.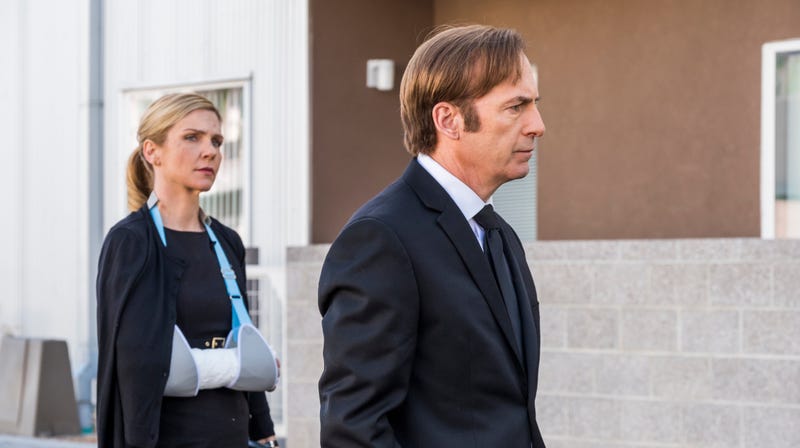 The show is slow but the wheels keep turning, and the timeline between the end of Better Call Saul and the start of Breaking Bad is coming closer and closer into focus.
From here, the title credits play and we are taken back to the series' present. It may have been a year since we witnessed Chuck (Michael McKean) kill himself by setting fire to his own house, but episode one of season four starts nearly exactly where we left off. In a moment of harsh dramatic irony, Jimmy wakes up next to Kim (Rhea Seehorn) in their apartment together, puts the coffee on and looks through the job listings. This is characteristic of the show as a whole, and will probably be a good hint as to its strategy this season; we know that something terrible has happened, but before we even get the reaction, we observe Jimmy in a happy, productive mood. It's cruel but necessary, perhaps allowing Jimmy his last moments of honest-to-goodness action. Once the news of Chuck's death breaks, its safe to say he will forever be a changed man.
The rest of Jimmy's storyline this episode twists the knife in further, with Chuck's partner Howard Hamlin (Patrick Fabian) calling him up to double-check his obituary. Even in death, Chuck finds a way to rankle Jimmy, his innumerable achievements — graduating school at fourteen(!), establishing the best law firm in New Mexico — a reminder of his superiority. Odenkirk does some of his best work here, the look of distaste on his face speaking volumes about how he views his deceased brother. He barely talks for the rest of the episode, engaging in silent drinking sessions with Kim, eventually falling asleep with a bottle of tequila by his side… Does he seem genuinely sad?
One of Better Call Saul's greatest strengths, however, is that we know exactly what is going to happen to Jimmy, as well as exactly what is going to happen to Mike (Jonathan Banks), Gus (Giancarlo Esposito) and Hector (Mark Margolis). Its from how the two series connect that Better Call Saul becomes intriguing, using every part of its seedy Albuquerque milieu to construct an intimate yet epic morality tale about people being drawn to the dark side despite their better nature.
For this reason, there is something intensely satisfying yet sad watching Mike hang up his career as a car park attendant — honest work, if boring — and infiltrate Madrigal Electromotive as their new security consultant. In a scene typical of Better Call Saul's angular plotting, we are introduced, without warning, to a man we have never seen before getting into his car (not before, of course, helping his son with his bike) only to find that it can't get started and his security pass is gone. The next sequence illustrates the unique pleasures of the show; seeing how plots are put together through scenes that initially appear inconsequential. His way of pointing out problems is by exposing them, managing to walk around a huge warehouse despite not being an employee, something he cleverly uses to get an interview with Breaking Bad-favourite and Madrigal executive Lydia Rodarte-Quayle (Laura Fraser). How this links up with Gus Fring's multimillion-dollar business, Jimmy's shady law firm and an exposed Nacho (Michael Mando) remains to be seen. The pleasure of season four will lie in how all this is slowly put together.
The show is slow but the wheels keep turning, and the timeline between the end of Better Call Saul and the start of Breaking Bad is coming closer and closer into focus. In a show densely layered with foreshadowing, this final transformation is best hinted at after Chuck's funeral (which tellingly, we do not see) when Hamlin sits down with Jimmy and expresses his remorse for what happened to his brother. After a suicide, its natural to feel guilty for one's actions, however insignificant they may be, and here we finally see a side to Hamlin hitherto missing; a man who truly cares and wishes that he could've done something different, especially with how he handled the insurance fiasco that saw out last season.
Instead of comfort, however, Jimmy offers a message of brutality, telling Hamlin that it is now his "cross to bear". Then he gets off the couch and offers to make coffee. It seems at this moment, with Jimmy carefreely whistling, as if a great burden has come off his shoulders, and the real Saul Goodman has been born. (Is it because he no longer feels guilty, or is it because he knows that now no one will blame him?) Many of us felt the same at the end of series one when he drove off humming "Smoke On The Water", the desire for a truly righteous life vanquished. Jimmy has had moments since then to redeem himself; but with Chuck now gone, the gloves are now truly off. Let's just hope Kim gets out before its too late.
Freaks and Geeks Episode 1 Review: "Pilot" Remains Iconic and Subversive
Our rewatch of Freaks and Geeks begins with the show's infamous pilot episode.
Even after twenty years, the opening minutes of Freaks and Geeks' first hour feel subversive; it opens on an overwrought confession of love between a football player and cheerleader ("I just love you so much… it scares me") on the bleachers, only to immediately shove them off-frame to introduce us to the "freaks" hanging out below. In one beautifully-crafted shot, "Pilot" sidesteps so many of the shows of its era, from big names like Dawson's Creek, to other fare like Hang Time or USA High (both notable as female-led series airing in the late 1990's). This wasn't a show about the stress of winning regionals or melodramatic love triangles; Freaks and Geeks was interested in more fundamental truths about adolescence, about those formative years of life where elements of the real world begin to seep into the sugar-coated fictions of childhood. At its very core, it is about the infancy of identity, the beginning of the lifelong struggle to figure out who we are.
Freaks and Geeks captures the poetic dichotomy of high school life: how every small personal or moral victory gained in the four years between middle school and college, is often met with a doubly embarrassing and humiliating experience.
The first characters we meet are the male freaks – who, ironically, would be the three actors who would become the biggest stars of the show. Daniel Desario (James Franco) is telling Nick Andopolis (Jason Segel) and Ken Miller (Seth Rogan) about the "edgy" Molly Hatchet t-shirt he wore to church. Daniel's aghast at why the priest wouldn't let him in: "Why not, man? It's church; we're supposed to forgive people there."
Both an interesting framing device for it's most complicated character (he's wearing someone else's shirt to form an identity, something we'll see explored more later in the series) and an indictment on what the high school experience is like, writer Paul Feig's opening lines are laser-focused on upsetting the stereotypes and expectations of what a high school story is; though many series of its ilk posited themselves as explorations of identity, few even attempted to explore the psychological (and existential) implications of high school in a way the first ten minutes of Freaks and Geeks quietly does.
From there, "Pilot" slowly begins to build out its expansive cast of characters, set against the backdrop of the first day back to school after summer vacation – one that just so happens to form a demarcation of the Weir children's identities, as they begin to break out of the archetypal boxes placed on them by their class mates, teachers, and society as a whole. Seeking nuance where most shows would look to establish familiarity, it's the little touches to Lindsey and Sam's characters that flesh them out so magnificently; while there are certainly the familiar notes of "suddenly rebellious teen" and "nerd striving for more," there's great care built into the show's two central protagonists. Lindsey suddenly wearing her father's army coat, Sam's absolute fear of any kind of emotional interaction… these notes are subtly surfaced throughout the first hour, and help establish an impressive ability to build characters, of which it would do so about a dozen times in the first hour (save for maybe Rogan's Ken, who is just an insufferable douche in his few starring moments).
More importantly, Freaks and Geeks captures the poetic dichotomy of high school life: how every small personal or moral victory gained in the four years between middle school and college, is often met with a doubly embarrassing and humiliating experience. Take Sam Weir (John Francis Daley) and his friends, Neal Schweiber (Samm Levine) and Bill Haverchuk (Martin Starr, in arguably the show's best role); they try to stop the class bully Alan (Chauncey Leopardi) from picking on them, only to endure triple the ridicule and physical intimidation from standing up to him. Sam even conjures up the nerve to ask out his biggest crush Cindy Sanders in painfully awkward fashion (Natasha Melnick), but she's already got a date (but promises to save a dance for him, which hardly turns out the way he expects).
What remains impressive is how Feig hasn't forgotten these moments of insecurity and struggling with self-definition, or conflated those struggles with sentimentality for the space between a child'ts life and adulthood. It explicitly rejects that approach for something more contemplative, and in its unassuming honesty, something far more layered and exploratory.
In one of the pilot's best scenes, her brother Sam comes to talk to her after she explodes on her father Harold (Joe Flaherty), who tries to point his daughter in the right direction by pointing out that everyone dies when they do things wrong. When Sam asks her (in Millie's words) "why are you throwing away your life?", Lindsey's response is heartbreaking. She reveals she was alone with her grandmother when she died, and saw how scared she got when her grandmother saw "nothing" waiting for her as she felt herself dying.
"She was a good person – and that's what she got," she tells Sam, and Lindsey's search for identity snaps into place: she's coming face to face for the first time with the biggest existential question of them all… what the hell is the point of a life? It's a trauma most adults can hardly contend with, forget teenagers who barely know what their life will look like six months from now; "Pilot" places Lindsey squarely in the center of that essential internal conflict – and more importantly, observes just how ill-equipped the world around her is to answer her question, the well-meaning intentions of others, like her parents or Mr. Rosso, the school counselor ultimately empty, self-serving gestures to assuage their own fears (or in Rosso's case, trying to win the academic decathlon).
It's a rather unconventional approach to take for a high school series, to immediately marginalize many of the events it contains – particularly those of the "geeks", and their fear of bullies – dismissing the typical high school narratives as the vapid pieces of work they are. Like a spiritual successor to Dazed and Confused (or a predecessor to Linklater's other young adult masterpiece, Everybody Wants Some), the typical high school experience is but a lens for more meaningful explorations of character and identity, and not the other way around.
It's even more unconventional for a high school series to center itself on a young woman, one not concerned with boys, popularity, or some strange intersection of the two: Lindsey's conflicts are decidedly internal, rejecting the empty sense of accomplishment garnered from her intelligence and achievement in competition. She's still young and naive – her visible crush on Daniel's freewheeling approach to life a clear sign – but she's both in control of her emotions, and isn't dismissed as a superficial entity, as so many other high school shows would do with their central female characters (I'm looking at you, Gossip Girl). She's not a cheerleader or an Ugly Betty; she's Lindsey Weir, a complicated, confused person trying to find her way – Freaks and Geeks' ability to personify her, without judging or manipulating her into a stereotype, is still a fascinating thing to deconstruct.
Another reason Freaks and Geeks remains an all-time favorite of mine is how this approach is eventually applied to every character in the series,big or small. Though this isn't necessarily conveyed effectively in the first hour (after all, it's only 49 minutes, which leaves little room for characters like Millie or Ken to be developed), but as the series continues, Feig's signature becomes defining a set of archetypes by breaking down and redefining the stereotypes it employs. Even the bullies like Alan and Kim Kelly (an absolutely magnificent Busy Phillips) get defined a bit: as the geek seer Harry Trinksy tells Sam and company when they're seeking options to solve their bully problem, the reason he's picking on them is probably because he wants a friend, and just doesn't know how to express his feelings. It doesn't forgive him for being as asshole (as Harry's friend points out), but it fills out a snot-nose shithead like Alan, and make him a much more three-dimensional character than he had any right to be (and one it would further expand on, in later episodes like "Chokin' and Tokin'".
Oddly, the part of "Pilot" Feig, Apatow and company attribute most to the early dismissal by most of the series is the presence of Eli, a mentally retarded character played very heavily by Ben Foster. I tend to disagree – Eli's one of the more important characters of the pilot, revealing to Lindsey what a self-righteous journey her public displays of rebellion have been. When she calls out the kids who are joking around with him (in a semi-mean way, but are still being friendly), she insults Eli, who runs away and falls, breaking his arm in the process. It's a brutal reminder to Lindsey about how honesty can be such a double-edged sword in a world like high school – and a condemnation of her attempts to appeal to other students by being his date to the dance (which later serves another purpose, when they share a dance and Freaks and Geeks reminds us just how trivial and easily solved so many dramatic high school moments can be).
Although every minute of a pilot is tough, the final sequence is really the hardest, often leading to overt platitudes, forced emotional moments, or plot set-up for a potential series: Freaks and Geeks does none of these, pushing most of the characters aside in its final minutes to focus on Lindsey and Sam at the homecoming dance. Sam finally gets the dance with Cindy he's been dreaming about – but it's not a slow song like he thinks, as Styx's "Come Sail Away" goes from its slow opening chords to the moving, dreamy prog rock beat of the verses and chorus. Lindsey apologizes to Eli, and lets all the problems of her life melt away around her as they sway to the increasingly-loud backing track, finally taking off her father's bomber jacket and enjoying the moment she's in, and not worrying about the ones past and to follow. It's simply a beautiful, beautiful conclusion, one that still makes any room I'm in extremely dusty when watching it.
It really can't be understated the use of "Come Sail Away" in this scene; as the song's ludicrous lyrics ebb and flow through the ever-changing instrumentation, Freaks and Geeks uses its licensed music in "Pilot" as a parallel for the series to follow. So often Freaks and Geeks would take the normal, almost operatic approach to high school conflict, and re-contextualize it, immediately undercutting the expected conflicts to tug away at the deeper truths forming during those times, transforming moments we've seen so many times before, into uniquely moving, haunting pieces of contemplative art.
We all know the unfortunate fate of Freaks and Geeks, dismissed by NBC and America, cancelled before airing its final handful of episodes (which would show up later in the fall to little fanfare). But like many cult favorites, its cancellation was a blessing in disguise: there are few blemishes of failed story lines, and no time for controversial cast changes or the inevitable dip in quality shows see in longer runs. For 18 episodes, Freaks and Geeks is near-perfect television, a depressingly poignant look at high school (and the world) in 1980, with a few hopeful moments thrown in to remind us that there's a light at the end of the tunnel, a time when we can look back and remember the trials and tribulations much more fondly than we could actually living it. Even if there's nothing waiting for us in the end, Freaks and Geeks argues that the journey of discovery is worth the trip itself, as long as we're suffering through it all together.
Other thoughts/observations:
Welcome to our 20th anniversary Freaks and Geeks celebration! I'm going through all my original Sound on Sight/PopOptiq reviews from back in 2013, re-examining each episode and expanding each of my original pieces on the series over the next two weeks.
Seriously, if you've never seen the closing sequence of "Pilot," it is perhaps my favorite five-minute sequence of television. Watch it.
Nobody ever knows how to say Neal's last name correctly.
the dodgeball scene is pure art.
Mr. Ross makes a great point to Lindsey about her relative privilege; her biggest concern is being sentenced by her prosperous family to attend a homecoming dance, a bit of sorely-needed perspective so many other genre counterparts willingly ignore.
Among other things, Nick's drum kit has 2 gongs, 10 cowbells, 12 toms… and four kick drums, as overwrought and useless as it sounds. It's construction does a lot to explain the comment he makes earlier about shop being the only class he can pass, though.
It's difficult to watch Eli's character through the pilot: in a series that often explores the lack of genuine support systems for its characters (and how fundamentally important it can be to healthy development), seeing Eli struggles to exist and be accepted are heart wrenching.
Between Freaks and Geeks and Other Space, Paul Feig is behind two of my favorite "why the fuck did they cancel these after a single season" series.
Bill asks Neal a poignant question about his bullying: "What's the point of all this?" Alan doesn't have an answer, so of course, he compensates with his aggression. We'll learn more about where that comes from later on.
Sam's "that could be good" when Cindy says she'll save a dance for him… it is awkward perfection, a perfect showcase of how well-casted John Francis Daley is in the role.
Nick talks about how much disco sucks, and Bill threatens someone who makes a joke about dating his mom… even though it is only the first episode, Freaks and Geeks is smartly planting seeds for future episodes to germinate in fascinating ways.
Neal suggests enlisting Kim to beat up Alan after she intimidates the hell out of Sam – probably not a terrible idea.
Bill just wishes his mom would leave notes inside his lunch, instead of writing them in ink on the front of the bag, giving him the "Little Man" moniker he is frequently mocked with.
"Should I wear a cup for this?" "That's between you and your God, Bill."
I always forget how much the opening credits of this show fucking rock.
"For the record, I weigh 103 pounds." Line kills me every time.