Games That Changed Our Lives: A Love Letter to 'Pokémon Stadium'
Pokémon Stadium was made as an accessory for the GameBoy games, but for me, it felt like the opposite.
Pokémon has been my favourite pop culture touchstone since I was a kid and remains a huge part of my life to this day. Yet my introduction to the Pokémon video games started a bit differently than most kids in the 90's.
At the time, Pokémon had taken over the kids' channels, the toy aisle, and even the news. Like every fifth-grader at the time, I was hooked, and my passion for Pokémon had to be sated. Cards, toys, plush, none of it was enough. I hadn't known much about video games until Pokémon Red and Blue took over the schoolyard, but now I needed them.
My parents refused to let a GameBoy into our house. They assumed that us kids would be glued to it at all times (and they would have been right). The work-around: a home console for my birthday.
My grandparents bought me a Nintendo 64 and a few key titles, including Pokémon Stadium, and it changed me. I was already an indoor kid, but now I holed up in my basement for hours on end. Mario was cool and all, but now I could choose from 149 battle-ready Pokémon and watch them kick my friends' butts in glorious 3D. I battled in four tournaments with individual rules that forced me to use different Pokémon. I got to fight my way through the Gym Leaders and Elite Four. There were awesome mini-games I could compete in! I even got to admire my champion rental Pokémon in the Hall of Fame.
Pokémon Stadium had even more to unlock with a GameBoy game, though. There were a handful of menu options I couldn't access, and they made an angry beep when I tried. Yellow Version came out over the summer, and I begged my parents for it. My dad promised he would buy it on the way home from work, and every day I pestered him about it. Eventually, I gave up hope. But then, one day he had it, and my world opened up.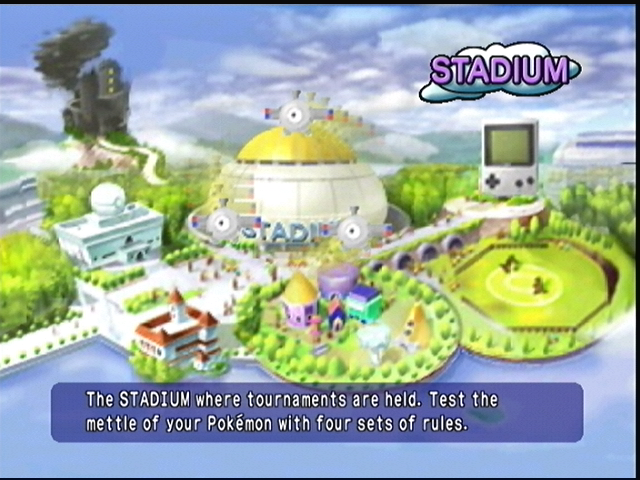 Stadium came with a GameBoy Transfer Pack peripheral that allowed you to play your GameBoy games on the big screen. I was excited about starting my own Pokémon journey, and with a Pikachu to boot, but now half of Pokémon Stadium was newly unlocked. There was the GameBoy Tower, where I clocked every single hour of Yellow. I could now access Oak's Lab, which let you rearrange, sort, and even store your Pokémon on the N64 cartridge. It also let you trade Pokémon between games, whether you had two Transfer Packs or not. I could send rare Pokémon to my game for beating certain challenges. I could take photos of my Pokémon, and use my own Pokémon in the mini-games and the many battles the game presented. If they had special nicknames, then their colours changed in bizarre and fascinating ways that made them feel truly unique.
Of course I was hooked. When Pokémon Stadium 2 came out with Pokémon Gold and Silver, I probably clocked just as many hours playing Silver in the GameBoy Tower as I did playing the rest of Stadium 2. It was exhilarating getting to explore all of the game's new features. It had everything I loved about the first game, with all of the battle challenges, mini-games, and free play options. It also had even more goodies for your GameBoy games! My Room gave a 3D view of your in-game room with all of the Pokédolls and accessories gained from Mystery Gift, which gave you daily items. The new set of mini-games now awarded you coins you could send to your GameBoy games. There was even an academy to test your Pokémon knowledge.
I continued buying Pokémon console games, even when they didn't come with hardware to allow me to also buy the handheld games. I dearly loved Pokémon Colosseum and Pokémon XD: Gale of Darkness, and Pokémon Battle Revolution was fine, but none of them could do everything Pokémon Stadium 1 and 2 did. They let you play your handheld games on the TV, earn rewards to send to your games, test your mettle against both famous characters and tough stadiums, and play silly mini-games. Most games did a few of those things, but none since Stadium have had them all.
There's still a handful of fans praying for Pokémon Stadium 3. As much as I hate to admit it, we just don't need it anymore. The main series Pokémon games are already in 3D, and they really have it all these days. Pokémon Stadium will forever hold a special nostalgia that can still be felt if you load up a GameBoy game or challenge friends to the timeless mini-games.
Pokémon Stadium was made as an accessory for the GameBoy games, but for me, it felt like the opposite. Rather, Pokémon Yellow unlocked a whole new part of a game I already loved.
'Earthbound' is one of the Weirdest, Most Surreal Video Games
25 Years later…
Games that Changed Our Lives
The SNES is arguably home to some of the best Japanese role-playing games ever made, but even among such revered company, Earthbound (known as Mother 2 in Japan) stands out as a brilliant satire about growing up and our fears of conformity. It's anarchy versus conformity, only conformity doesn't stand a chance.
EarthBound has been often compared to Catcher in the Rye with its complex issues of identity, belonging, loss, connection, and alienation. Blistering, hallucinatory, often brilliant, Earthbound is a one-two punch of social satire and a hilarious ride into the twisted recesses of a boy's psyche. This often funny, always poignant coming of age tale, deeply embedded in suburban mores, centers around four kids, off to save the planet by collecting melodies while en route to defeating the evil alien force known as Giygas.

Earthbound didn't reinvent the wheel, but it sure had fun twisting the usual JRPG tropes. There's a princess you must rescue, not once, but twice, who's really just a child prodigy, and there's an arch nemesis who turns out to be your next-door neighbour. The game puts you in the shoes of a young boy named Ness as he investigates a nearby meteorite crash. There, he learns that Giygas, has enveloped the world in hatred and consequently turned animals, humans, and inanimate objects into dangerous creatures. A bee from the future instructs Ness to collect melodies in a Sound Stone to preemptively stop Giygas from destroying the planet. While visiting eight Sanctuaries, Ness partners with three other kids, a psychic girl (Paula), an eccentric inventor (Jeff), and the prince of the kingdom of Dalaam (Poo). Along the way are underlining themes of corrupt politicians, post-traumatic stress, corporate greed, depression, capitalism, police violence, terrorist attacks, homosexuality, religious cults, and xenophobia. Your adventures take you through modern cities, prehistoric villages, cold winter climates, a desert wasteland, monkey caves, swamps, dinosaur museums, and even a yellow submarine.
"Ness, you've stood on the eight power spots of the earth. From these, you created Magicant, the realm of your mind."
A pivotal moment in the game comes after collecting all eight melodies with the Sound Stone. After Ness has taken control of his Sanctuaries, Ness visits, Magicant, a surreal location that exists only in his mind and contains his warmest memories and his worst fears – an allegory perhaps, for how the entire game allows us to see into the mind of the creator. There, Ness must face his dark side. A man tells him, "Magicant is a place where you must cleanse yourself of the evil hidden within your mind. Take the time to look around, it is your mind after all."
EarthBound is arguably one of the single best RPGs ever made, and boasts one of the best storylines of any game.

The tone of Earthbound is perhaps its most fascinating attribute, best exemplified by its most famous quote: "There are many difficult times ahead, but you must keep your sense of humor." Earthbound skillfully surprises you with a reservoir of emotion and sentiment that happily counters the game's trendy ironic veneer. Along the way, Ness visits the cultists of Happy Happy Village (based on a real-life Japanese doomsday cult founded by Shoko Asahara in 1984); their mission statement is to paint the town red by literally painting it blue. You'll fight a watchful puddle of vomit and battle through the zombie-infested town of Threed. You'll use a peculiar device called the Pencil Eraser to remove statues of pencils that block you from advancing through specific areas, and you'll suffer through terrifying hallucinations of your family and friends, and be asked to dismember your arms and legs, or otherwise, lose your mind. In one of the game's most memorable moments, Paula is kidnapped by the Department Store Spook, an unseen entity that resides in the town's shopping mall. And after defeating Frank Fly and his evil creation Frankystein Mark II, you'll be escorted to the back of a police precinct, only to be assaulted by four officers and Captain Strong, the chief of the Onett police force. Defeat the corrupt cops and you'll gain access to the second town you'll visit (named TWOson, so as not to be confused with Onett, Threed, and Fourside). And when entering a cave, you'll battle five moles made up of members who each believe themselves to be the third-most powerful of their group. Then there is backwards city Moonside, a warped mirror image of Fourside, that hides a secret more terrifying than the town itself. Just walking around feels like something between an out-of-body experience and a nightmarish trance, in which abstract art attacks you and the psychedelic imagery, lit by gaudy fluorescent neon-lights which contrasts the entire look and feel of what came before. It's a city where yes means no and no means yes; a place where blond-haired business men teleport you across the city blocks and where an invisible man with a unibrow and a gold tooth gets you past the sketchy sailor hiding out in the back alley.

Throughout the game, Ness is repeatedly antagonized by his neighbor, Pokey, who resurfaces several times, and countless other enemies including Titanic Ant, professional thief Mr. Everdred, and a glorious evil statue Mani, Mani. But the real big bad of the game is the aforementioned Giygas, a.k.a. The "Embodiment of Evil" and the "Universal Cosmic Destroyer", who intends to sentence all of reality to the horror of infinite darkness. Giygas borrows heavily from Stephen King's It and was inspired by a murder scene from the black-and-white Japanese horror film The Military Policeman and the Dismembered Beauty – a sequence which scarred creator Shigesato Itoi, when he accidentally watched the film as a child. Giygas is without question, the most disturbing, and strangest end-boss villain of any Super NES game – a character so deranged, there's been hundreds of fan theories about what he really is.
While EarthBound's overall gameplay feels like a traditional Japanese RPG of the era, the game is full of ingenious ideas that buck genre trends. EarthBound also makes no apologies for being very difficult to complete. It takes days to finish and is most challenging at the beginning when Ness travels alone and hasn't yet powered-up. Inventory space remains incredibly limited since each character can only carry a certain amount of items and you can't drop many of the items since they will come in handy later in the game. Boosting your XP is a must, otherwise, you won't stand a chance in defeating any boss; and currency is also important when buying new weapons or visiting the hospital to attend to fatal injuries. Money must be withdrawn from the nearest ATM, deposited by your estranged father, and a bedtime snack from your loving mother sends you off to bed to recharge your stats. There are other refreshing deviations from RPG tropes, and every one of the four characters has a specific skill-set.
Earthbound is a strange game, themed around an idiosyncratic portrayal of American culture from a Japanese point of view. The game subverted popular role-playing game traditions by featuring a real-world setting while playing with various staples of the genre and adding a number of pop-culture references throughout. The Japanese title was inspired by the song of the same name by John Lennon – a song about growing up without a father for most of his life, and unsurprising, Ness' dad is never once seen, and only communicates with his son via telephone. And that's not the only Beatles reference you'll see: EarthBound makes two additional nods to the world's greatest band, along with allusions to Bugs Bunny, comedian Benny Hill, Rob Reiner's This Is Spinal Tap, the Blues Brothers, Monopoly (Monotoli), Donkey Kong, Pac-Man, Rambo, Mr. T, and The Who, to name a few. Written, directed, and created by famous Japanese personality Shigesato Itoi; this is surely his love letter to 20th-century Americana.
Localizing Earthbound was a massive undertaking. Under directives from Nintendo, Marcus Lindblom worked with the Japanese artists and programmers to remove references to intellectual property, religion, and alcohol from the American release, such as the Coca-Cola logo and the red crosses on hospitals (due to issues with the Red Cross). Alcohol became coffee, Ness was no longer walking around nude in the Magicant area and the Happy Happyist blue cultists sprites were altered to look less like Ku Klux Klansmen. The Runaway Five members' outfits were changed to make them look less like the Blues Brothers, and the "Sky Walker" was changed to the "Sky Runner" to avoid the Star Wars reference. Apollo Theater was changed to Topolla Theater, presumably to avoid issues with the real-life venue and the use of the word drug, seen on the various town maps was removed or changed. The list goes on and on…
Chock full of odd charm and humour in a genre that usually takes itself a little too serious, Earthbound is

one of the weirdest, most surreal

video games you'll ever have fun playing.

The game had a lengthy development spanning five years and involved a number of Japanese luminaries, including writer Shigesato Itoi, songwriter Keiichi Suzuki, sound designer Hirokazu Tanaka, and future Nintendo president Satoru Iwata. Released in a huge box-set that contained a strategy guide with scratch-and-sniff stickers, Earthbound came with a $2 million marketing campaign derived from the game's unusual brand of humor. As part of Nintendo's "Play It Loud" campaign, EarthBound's tagline read, "this game stinks." Earthbound was proud to one of the most bizarre RPGs – and it didn't shy away from its offbeat premise. Unfortunately, the game was met with poor critical response and sales in the United States, but as the years went by, the game received wide acclaim and was deemed by many a timeless classic. It has since become one of the most sought-after games in the second-hand market, selling for upwards of $80 for the cartridge alone. Holding onto an incredibly dedicated cult following, the main character Ness became a featured character in the Super Smash Bros. series and in 2013, EarthBound was reissued and given a worldwide release for the Wii U Virtual Console following many years of fan lobbying.
EarthBound is arguably one of the single best RPGs ever made, and boasts one of the best storylines of any game. There are two extremely popular fan-made sites dedicated to the game (Starmen.net, EarthboundCentral), and dozens of other sites have devoted countless hours in translating the sequel for English-speaking audiences. Earthbound was ahead of its time when released and its influence continues to be felt, inspiring the likes of Pokemon, Animal Crossing, Majora's Mask, Chibi Robo, Retro City Rampage, and South Park: The Stick of Truth.
While Earthbound's game mechanics stick to the traditional JRPG template, its surreal world, imaginative locals, and experimental soundtrack created a truly unique experience. Nothing stands out quite like its visual style – an 8-bit presentation powered by a 16-bit processor. The graphics might not be as advanced as some of the other 16-bit titles available on the SNES, but it is certainly among the most memorable. The SNES was home to some amazing soundtracks, but EarthBound's soundtrack remains the best. Created by four composers, there's enough music here to fill 8 of the 24 megabits on the cartridge – with direct musical quotations of classical tune and folk music, and a few samples culled from commercial pop and rock. It also contains one of the very best endings in any video game, a touching climax that captures the vulnerability and beauty of adolescence and the power of friendship. And the punctuation mark comes during the credits. Throughout the game, you'll cross paths several times with a photographer who descends from the sky and snaps a photograph of your most recent achievement. These pictures will roll throughout the credits, serving as a makeshift montage of your time spent playing the game. And be sure to stay until the very end. To say more would be giving away the surprise.

I can't think of another game as irreverently comic and deeply touching as Earthbound. Here is a game that resonates long after completion, and oozes originality in just about every frame. Ness may rock his sweet ball cap, handy backpack, telekinetic powers, and a trusty baseball bat, but even this hero needs to call his mom regularly, otherwise, he may suddenly find himself useless in battle. Earthbound stands, sweet and strong, outrageous and quirky, like its heroes — it's about the loss of innocence as well as gaining wisdom – and is one of those treasures absolutely not to be missed. While it suffers from a slow start and stretched premise, the charm of its cast debunking an intergalactic conspiracy goes a long way. Of all the games I own on the Super NES, Earthbound is the game I treasure the most and the game that made me fall in love with the medium.
– Ricky D