Why 'Pokémon Let's Go's' Kanto is so Wonderfully Immersive
Pokemon Let's Go's mechanics might be divisive, but its realization of Kanto deserves universal praise. Here's how it nails immersion.
Pokémon Let's Go has been one of the most controversial Pokémon releases of all time. Lambasted for its simplified catching mechanics and focus on the original 151 in Kanto, the game has been somewhat shunned by some of the more hardcore fans. No matter where you fall on that, though, it's undeniable just how much this remake reinvigorates the entire look and feel of Pokémon Yellow. From the completely redone locales to painstakingly adding the tiniest of details, Let's Go's world feels the most lived-in of any Pokémon game thus far.
A Whole New World (…Kind Of)
Those of us who grew up with the original Pokémon games grew to know Kanto as well as our own backyards. Let's Go doesn't deviate too much from the classic layout, but the completely revamped presentation does a brilliant job of bringing the region to life. Every area feels completely different (yet familiar) in HD and greatly benefits from the move from pixel art. The transformation is evident everywhere, but truly shines when it comes to stand-out areas like Pokémon Gyms and major landmarks.
Though the graphics on the original GameBoy were all players knew at the time, using your imagination and referencing the anime played a large part in getting a sense of the original game world. In the Cerulean City gym, for instance, the setting simply featured tiny swimmer/beauty sprites and a significantly more detailed Misty upon encountering her.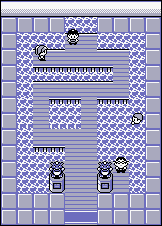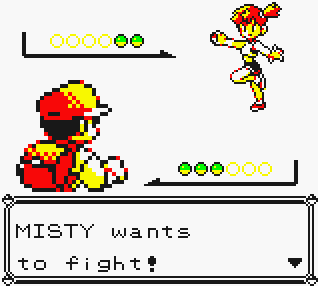 In Let's Go, players can much more easily experience what the gym was meant to look like. Not only is the detail incredible, but there are also full-fledged beauties who jump off diving boards as players walk by and swim to them in a flourish. Every gym feels like a visual showcase, and every trainer is just as memorable as ever.
Then there's the S.S. Anne, one of the most striking locations from the original games. The concept of boarding a huge cruise ship and facing off against passengers and staff alike was incredibly unique at the time. Exploring every inch of the ship (including the cabins, kitchen, deck, etc.) and taking in how vast it felt was simply a significant highlight.
This feeling of wonder hasn't only been translated to Let's Go, but it's also been expanded upon with little flourishes like cutscenes, a corresponding sailor outfit and a much more appropriately scaled ship. It's setpieces and environments like these that bring Kanto to life for both new and returning players.
Express Yourself
The environments are one thing, but what's always made the Pokémon games stand out was how unique and special each creature felt. For many fans, the allure of Pokémon is all about imagining and experiencing what living in a world filled with them would be like. While the original games couldn't do much to illustrate this world in detail (at least compared to the anime), Let's Go does a commendable job as the first game in the series to take advantage of the Switch's power.
Each of the 151 Pokémon can either follow the player or be ridden on (if large enough), and each has a distinct movement animation that makes them feel more realistic. Seeing what each Pokémon looks like when traveling alongside you almost becomes addictive, and the care given to these depictions is really top notch (when traveling with Kangaskhan, for instance, the player is perched on its shoulder and Pikachu/Eevee joins the baby in the pouch). Seeing the size disparity between pokémon like an Onix and an Ekans is both stunning and impressive.
The focus on immersion doesn't stop with the pokémon. Trainers have all been given new life with expressive/anime-inspired designs. Each type of NPC is significantly more recognizable with more detailed outfits and expressions than ever before. You can see each trainer issuing commands in the background (reminiscent of how Pokémon Trainer is animated in Super Smash Bros.). Each also has unique after-battle animations that help give these NPCs life and personality.
The real star of the show, though, is how the game encourages fostering a bond with your partner Pokémon. The actual interactive elements are adorable, but a bit shallow. They're somewhat reminiscent of the original Nintendogs in that you can't do much more than pet and feed them. It's the more subtle touches like celebrating with your partner after beating a gym, seeing them react to specific setpieces in towns, and experiencing major events with them via all-new cutscenes that help build a true feeling of partnership.
The Devil is in the Details
Just like how Let's Go subconsciously encourages you to care about your partner pokémon, it's the little things that really make this Kanto feel alive. Game Freak didn't create a visual marvel here, but they really did use the extra horsepower of the Switch to revitalize Kanto with a ton more detail than ever before.
Houses often feature varied artwork (especially if a child is living there, in which case there may be hand drawn art hanging up). Detailed pokémon posters plaster the walls of museums and certain shops. The player's partner pokémon leaps off of them and jumps into battle just like Pikachu forewent the pokéball animation in the original games. All of this and so much more culminates in a revitalization that feels carefully crafted to make anyone who remembers this region as delighted as possible.
Beanie Babies: The Collectables with Heart
Toys We Love Spotlight
For our Toys We Love Spotlight, I'm looking at one of my personal favourites: Beanie Babies. I had collected so many of these growing up, and households worldwide in the 90s and early 2000s were sure to have at least one Beanie Baby in their possession (was it even the 90s if they didn't?). These plushie companions were cute, cuddly, and collectable, so it's not a surprise that the Beanie Babies craze swept the globe, forcing parents and toy collectors everywhere to dig into their wallets.

Beanie Babies had a few aspects to them that made them stand out from your average plushie. Firstly, they did not have as much stuffing as most soft toys. Whilst some thought that this made them look cheap, it also made them light, posable, and gave them a realistic feel and look. The bear Beanie Babies were particularly good to pose, and this set them apart from run-of-the-mill teddy bears. Another element that made Beanie Babies more unique was their special tag. Each toy had a tag attached which had the toy's name, date of birth, and a quotation etched inside. The former was something that could have been a risky choice, as although it wasn't completely taking away the child's choice of name — there was nothing stopping them from just calling their Beanie whatever they wanted — a pre-selected name can be difficult to sell, as kids can often take great pride and pleasure in naming their toys.
It was a great success, however, and worked as a nice finishing touch for the Beanie Babies, adding a dash of personality and flair (something much needed in the often critically over-saturated soft toy market), as well as making each Beanie Baby feel like their own creature with their own little stories. Adding to that was the wide variety of animals that were available, such as Tiny the Chihuahua, Pegasus the Unicorn or Swampy the Alligator. This means that the desires of each individual child or enthusiastic collector could be catered to (I myself favoured the dogs and bears).
The Beanie Babies also had their own way of tackling difficult issues in society, showing them to kids through the guise of a soft toy. I'll give you an example through my own experience: I had a Beanie Baby that (as odd as it may sound) gave me more of an understanding of the horrors of September 11th. Weird, right? Allow me to explain. I was only just nine years old on that now-historical day when the twin towers in New York were attacked and so many innocent people lost their lives. I had come home from school (it was afternoon time here in the UK when it happened), and I remember my mum watching it on television in complete shock. She had watched the whole thing whilst I'd been at school.
I didn't really understand what was happening to be honest. Even when I was watching the repeats of the plane crashing into the side of the tower, I was somewhat oblivious the gravity of the situation (though as a nine year old child, I suppose I could be forgiven for that). The news continued to report the tragedy for a long time, and my school held assemblies to discuss the matter. I knew people had died, and that made me very sad, but I remember thinking that people died all the time, so why was this one incident reported on so much? About a month or so after, TY released three Beanie Babies as a tribute to those lost during 9/11. One of these was a Dalmatian Beanie Baby called Rescue, and I wanted him the moment I saw him, not really knowing the true nature of his purpose. My mum obliged happily, knowing what he represented. I remember taking my little Dalmatian with the red collar and American flag on his leg home and reading his tag. It read:
To honor our heroes
who lost their lives in the
national catastrophe that
took place on September 11, 2001.
We mourn for them and express our
deepest sympathy to their families.
God Bless America
I found Rescue in my room recently, and the memories flooded back to me upon reading it again. I remember looking into all the acts of heroism and bravery after reading Rescue's tag, and that's when the situation really hit home to me. I looked into the stories of firefighters and first responders and those who had died, as well as all the search-and-rescue dogs attempting to save people among the chaos. As a child, it can be hard to see past your immediate opinion and truly consider the sheer weight of a situation, but with Rescue's help, I was able to see just how this event was indeed very different to anything I had ever seen before, and how serious it was. It was the first time I felt like I was thinking like a grown up. I looked at the world differently from then on — obviously as I got older, but also from my ability to think harder and search deeper. Honestly, I don't know if I would have even bothered if it wasn't for Rescue reminding me of exactly how much was lost on that day.
Beanie babies will forever be ingrained in culture. They are still bought, sold and collected even now and will remain a timeless staple of most of our childhoods. They certainly are for me. Especially you Rescue, the bravest firefighting Dalmatian the world has ever known.