'Pokémon the Movie: I Choose You!' Coming to Theatres Internationally
The 20th theatrical Pokémon film, I Choose You!, will receive a limited theatrical release worldwide November 5 and 6. The movie is a retelling of how Ash and Pikachu met, and how their adventure first began.
The 20th theatrical Pokémon film, I Choose You!, will receive a limited theatrical release worldwide November 5 and 6. The movie is a retelling of how Ash and Pikachu met, and how their adventure first began. Find showtimes in your area and purchase tickets via the Fathom Animation website.
According to Pokemon.com, movie-goers will receive a promotional Pokémon trading card, as well as a QR code to download a Pikachu wearing Ash's hat from the movie to their Pokémon Sun and Pokémon Moon games.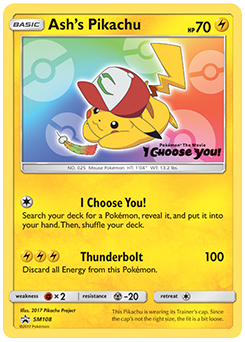 To further celebrate the film, all players can download another special Pikachu to their Pokémon Sun and Pokémon Moon games. Using the code PIKACHU20, players can download one of six Pikachu, each with an exclusive moveset and wearing a different one of Ash's hats from the animé. The code can only be used once, and the date it is redeemed will affect which Pikachu the player receives.
September 19–25: Ash's original hat
September 26–October 2: Ash's Hoenn hat
October 3–9: Ash's Sinnoh hat
October 10–16: Ash's Unova hat
October 17–23: Ash's Kalos hat
October 24–30: Ash's Alola hat
A new Pokémon film is released every year, and usually stars Ash and company with a new or legendary Pokémon. These feature-length films often have higher budgets than ordinary animé episodes, and are accompanied by a short Pikachu-centric film beforehand. These films are shown in theatres every July in Japan, and often draw huge crowds. Japanese movie-goers also tend to receive exclusive Pokémon in their games, as well as free merchandise.
This is the first time a Pokémon movie has had an international theatrical release in 14 years. In North America, only the first five Pokémon films (which were associated with the "original" first few seasons of the animé) were released in theatres. A few of the films have had limited theatrical runs since, including the 13th movie in the US and and 14th-19th movies in Australia and New Zealand. Pokémon: The First Movie – Mewtwo Strikes Back also had a short theatrical rerelease in the US last year, bringing back the nostalgia of the 90's for old fans.
The latest Pokémon film is sure to create great memories for both old and new fans alike.
Beanie Babies: The Collectables with Heart
Toys We Love Spotlight
For our Toys We Love Spotlight, I'm looking at one of my personal favourites: Beanie Babies. I had collected so many of these growing up, and households worldwide in the 90s and early 2000s were sure to have at least one Beanie Baby in their possession (was it even the 90s if they didn't?). These plushie companions were cute, cuddly, and collectable, so it's not a surprise that the Beanie Babies craze swept the globe, forcing parents and toy collectors everywhere to dig into their wallets.

Beanie Babies had a few aspects to them that made them stand out from your average plushie. Firstly, they did not have as much stuffing as most soft toys. Whilst some thought that this made them look cheap, it also made them light, posable, and gave them a realistic feel and look. The bear Beanie Babies were particularly good to pose, and this set them apart from run-of-the-mill teddy bears. Another element that made Beanie Babies more unique was their special tag. Each toy had a tag attached which had the toy's name, date of birth, and a quotation etched inside. The former was something that could have been a risky choice, as although it wasn't completely taking away the child's choice of name — there was nothing stopping them from just calling their Beanie whatever they wanted — a pre-selected name can be difficult to sell, as kids can often take great pride and pleasure in naming their toys.
It was a great success, however, and worked as a nice finishing touch for the Beanie Babies, adding a dash of personality and flair (something much needed in the often critically over-saturated soft toy market), as well as making each Beanie Baby feel like their own creature with their own little stories. Adding to that was the wide variety of animals that were available, such as Tiny the Chihuahua, Pegasus the Unicorn or Swampy the Alligator. This means that the desires of each individual child or enthusiastic collector could be catered to (I myself favoured the dogs and bears).
The Beanie Babies also had their own way of tackling difficult issues in society, showing them to kids through the guise of a soft toy. I'll give you an example through my own experience: I had a Beanie Baby that (as odd as it may sound) gave me more of an understanding of the horrors of September 11th. Weird, right? Allow me to explain. I was only just nine years old on that now-historical day when the twin towers in New York were attacked and so many innocent people lost their lives. I had come home from school (it was afternoon time here in the UK when it happened), and I remember my mum watching it on television in complete shock. She had watched the whole thing whilst I'd been at school.
I didn't really understand what was happening to be honest. Even when I was watching the repeats of the plane crashing into the side of the tower, I was somewhat oblivious the gravity of the situation (though as a nine year old child, I suppose I could be forgiven for that). The news continued to report the tragedy for a long time, and my school held assemblies to discuss the matter. I knew people had died, and that made me very sad, but I remember thinking that people died all the time, so why was this one incident reported on so much? About a month or so after, TY released three Beanie Babies as a tribute to those lost during 9/11. One of these was a Dalmatian Beanie Baby called Rescue, and I wanted him the moment I saw him, not really knowing the true nature of his purpose. My mum obliged happily, knowing what he represented. I remember taking my little Dalmatian with the red collar and American flag on his leg home and reading his tag. It read:
To honor our heroes
who lost their lives in the
national catastrophe that
took place on September 11, 2001.
We mourn for them and express our
deepest sympathy to their families.
God Bless America
I found Rescue in my room recently, and the memories flooded back to me upon reading it again. I remember looking into all the acts of heroism and bravery after reading Rescue's tag, and that's when the situation really hit home to me. I looked into the stories of firefighters and first responders and those who had died, as well as all the search-and-rescue dogs attempting to save people among the chaos. As a child, it can be hard to see past your immediate opinion and truly consider the sheer weight of a situation, but with Rescue's help, I was able to see just how this event was indeed very different to anything I had ever seen before, and how serious it was. It was the first time I felt like I was thinking like a grown up. I looked at the world differently from then on — obviously as I got older, but also from my ability to think harder and search deeper. Honestly, I don't know if I would have even bothered if it wasn't for Rescue reminding me of exactly how much was lost on that day.
Beanie babies will forever be ingrained in culture. They are still bought, sold and collected even now and will remain a timeless staple of most of our childhoods. They certainly are for me. Especially you Rescue, the bravest firefighting Dalmatian the world has ever known.