We Need More Games Like 'Puyo Puyo Tetris'
Remember those magical weekends as a kid when you'd get up super early to catch all your favorite Saturday morning cartoons? Well, that's kind of what playing the story mode in Puyo Puyo Tetris is like.
Remember those magical weekends as a kid when you'd get up super early to catch all your favorite Saturday morning cartoons? Well, that's kind of what playing the story mode in Puyo Puyo Tetris is like. Super bright, cartoony visuals? Check. Laughably cheesy yet lovable voice acting? Check. Family-friendly characters and dialogue that you can't help but get attached to? You bet. While PPT is a puzzle game at its core, its aesthetic is what really makes it shine and sets it apart from so many other games in the genre.
Now, let's be clear: PPT's "Adventure Mode" does little more than provide super outlandish excuses to play Tetris and Puyo Puyo. From "calming down" an unruly crew member to snapping a friend out of an evil trance, any and all conflicts are resolved with a battle, Yu-Gi-Oh style. It's all wonderfully campy and nonsensical. Characters themselves even make humorous asides to contemplate just how crazy some of the situations are. The combination of clean, colorful character portraits and spot-on voice over calls to mind Disgaea 5 Complete's stellar presentation, albeit slightly less detailed.
Even outside of the story, the Saturday morning cartoon vibes permeate throughout what feels like dozens of other modes. PPT is packed to the brim with loads of variations on Puyo Puyo and Tetris, and all of those feature a virtual cornucopia of whimsical backdrops and voice over clips. With all of the feel-good vibes PPT brings to the table, it's hard to go back to the comparatively bland Tetris clones of yesteryear.
Puyo Puyo Tetris is something of an anomaly, though. In an era where major third parties are focusing on gritty, grim and generally mature content now more than ever before, we don't see too many lighthearted, silly releases from major publishers. They're out there, though, and there are a few you should definitely be on the lookout for.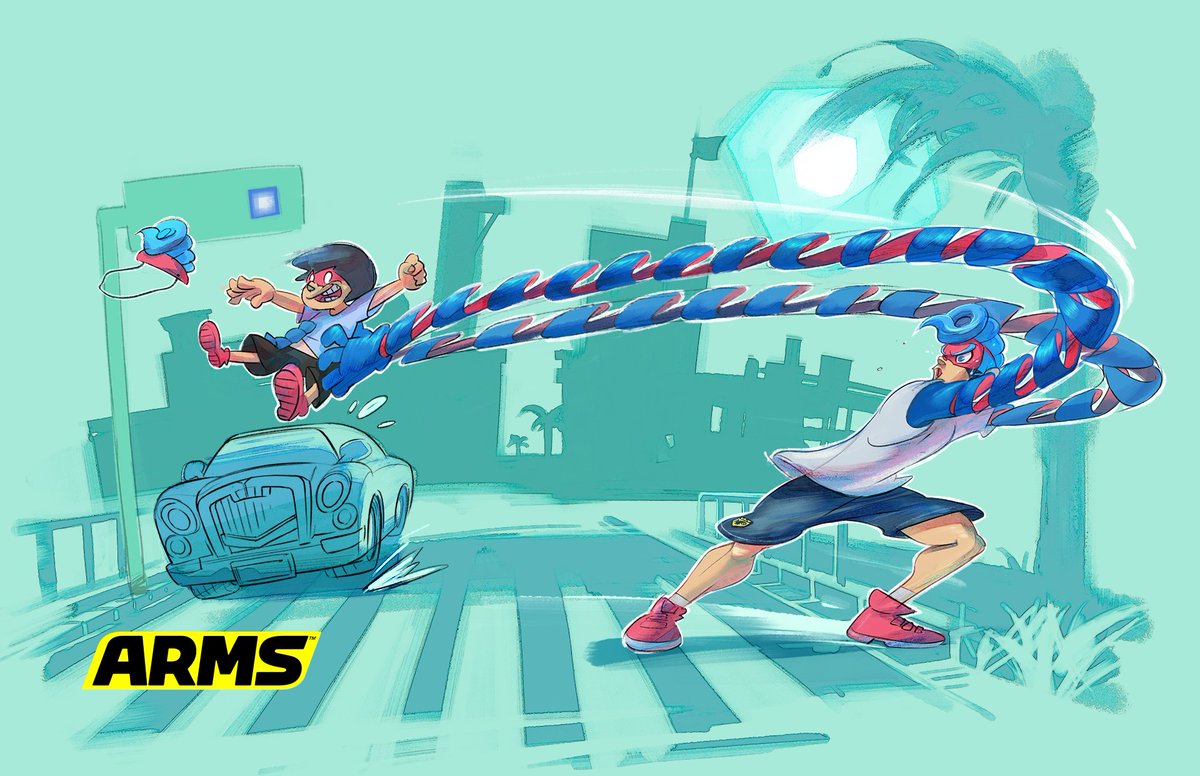 In terms of major releases, Ubisoft seems to be the only third party filling this need with their soon-to-be-released Mario + Rabbids Kingdom Battle and South Park games. Even their Beyond Good and Evil 2 reveal trailer, as impressive as it was, had truly ridiculous one-liners and laugh-out-loud moments. On the first party front, no one has this niche cornered better than Nintendo. The recently released ARMS is a great example of how to mix solid fighting mechanics with a silly premise and wacky character design, and all of the marketing around the game was full of self-referential humor. Likewise, Splatoon is a serious third-person shooter wrapped in a warm 90's blanket of crazy colors and bad puns. The Squid Sister Stories leading up to the new story trailer released in May read like bad fan fiction, and fans absolutely loved it.
Puyo Puyo Tetris is absolutely for puzzle lovers, but it's also for those who love a side of humor and silliness with their games. If you're looking for more titles like it, your best bet is likely nabbing a Switch or scouring Steam for some indie gems (shout outs to Pit People, HuniePop, and Ooblets). So if you're tired of all the self-serious games and just want something to chuckle at, support these little beauties! There's something to be said for games that just make you smile.
Beanie Babies: The Collectables with Heart
For our Toys We Love Spotlight, I'm looking at one of my personal favourites: Beanie Babies. I had collected so many of these growing up, and households worldwide in the 90s and early 2000s were sure to have at least one Beanie Baby in their possession (was it even the 90s if they didn't?). These plushie companions were cute, cuddly, and collectable, so it's not a surprise that the Beanie Babies craze swept the globe, forcing parents and toy collectors everywhere to dig into their wallets.

Beanie Babies had a few aspects to them that made them stand out from your average plushie. Firstly, they did not have as much stuffing as most soft toys. Whilst some thought that this made them look cheap, it also made them light, posable, and gave them a realistic feel and look. The bear Beanie Babies were particularly good to pose, and this set them apart from run-of-the-mill teddy bears. Another element that made Beanie Babies more unique was their special tag. Each toy had a tag attached which had the toy's name, date of birth, and a quotation etched inside. The former was something that could have been a risky choice, as although it wasn't completely taking away the child's choice of name — there was nothing stopping them from just calling their Beanie whatever they wanted — a pre-selected name can be difficult to sell, as kids can often take great pride and pleasure in naming their toys.
It was a great success, however, and worked as a nice finishing touch for the Beanie Babies, adding a dash of personality and flair (something much needed in the often critically over-saturated soft toy market), as well as making each Beanie Baby feel like their own creature with their own little stories. Adding to that was the wide variety of animals that were available, such as Tiny the Chihuahua, Pegasus the Unicorn or Swampy the Alligator. This means that the desires of each individual child or enthusiastic collector could be catered to (I myself favoured the dogs and bears).
The Beanie Babies also had their own way of tackling difficult issues in society, showing them to kids through the guise of a soft toy. I'll give you an example through my own experience: I had a Beanie Baby that (as odd as it may sound) gave me more of an understanding of the horrors of September 11th. Weird, right? Allow me to explain. I was only just nine years old on that now-historical day when the twin towers in New York were attacked and so many innocent people lost their lives. I had come home from school (it was afternoon time here in the UK when it happened), and I remember my mum watching it on television in complete shock. She had watched the whole thing whilst I'd been at school.
I didn't really understand what was happening to be honest. Even when I was watching the repeats of the plane crashing into the side of the tower, I was somewhat oblivious the gravity of the situation (though as a nine year old child, I suppose I could be forgiven for that). The news continued to report the tragedy for a long time, and my school held assemblies to discuss the matter. I knew people had died, and that made me very sad, but I remember thinking that people died all the time, so why was this one incident reported on so much? About a month or so after, TY released three Beanie Babies as a tribute to those lost during 9/11. One of these was a Dalmatian Beanie Baby called Rescue, and I wanted him the moment I saw him, not really knowing the true nature of his purpose. My mum obliged happily, knowing what he represented. I remember taking my little Dalmatian with the red collar and American flag on his leg home and reading his tag. It read:
To honor our heroes
who lost their lives in the
national catastrophe that
took place on September 11, 2001.
We mourn for them and express our
deepest sympathy to their families.
God Bless America
I found Rescue in my room recently, and the memories flooded back to me upon reading it again. I remember looking into all the acts of heroism and bravery after reading Rescue's tag, and that's when the situation really hit home to me. I looked into the stories of firefighters and first responders and those who had died, as well as all the search-and-rescue dogs attempting to save people among the chaos. As a child, it can be hard to see past your immediate opinion and truly consider the sheer weight of a situation, but with Rescue's help, I was able to see just how this event was indeed very different to anything I had ever seen before, and how serious it was. It was the first time I felt like I was thinking like a grown up. I looked at the world differently from then on — obviously as I got older, but also from my ability to think harder and search deeper. Honestly, I don't know if I would have even bothered if it wasn't for Rescue reminding me of exactly how much was lost on that day.
Beanie babies will forever be ingrained in culture. They are still bought, sold and collected even now and will remain a timeless staple of most of our childhoods. They certainly are for me. Especially you Rescue, the bravest firefighting Dalmatian the world has ever known.