What 'Splatoon 2' Needs to Succeed
The Nintendo Switch has a pretty strong year-one lineup going for it. Aside from bookending the console's first year with two of the most anticipated games of 2017, the Switch will also be home to other exclusives like Xenoblade Chronicles 2, Fire Emblem Warriors, Mario + Rabbids Kingdom Battle and Pokken Tournament DX all before January. While Super Mario Odyssey is at the top of the list for most Switch owners, this writer only has a couple more weeks to wait for his most anticipated game: Splatoon 2.
Splatoon has quickly become one of Nintendo's most precious IPs. The game's colorful, unique take on the third-person shooter genre resonated with gamers and critics alike when it released a little over two years ago. The first game on Wii U sold nearly 5 million units and spawned a massive worldwide following in the process. The game managed to spur a decent tournament scene for awhile (especially in Japan), and there were even large, sold-out concerts featuring the game's OST.
So with the first Splatoon being such a hit, it was only a matter of time before we got a sequel. This time around, however, there's a bit of pessimism around whether or not Splatoon 2 is actually a sequel or more so a "Splatoon Deluxe." In light of these doubts and the upcoming Direct, let's look at what this new entry needs to bring to the table in order to both satisfy fans of the original and improve the experience for series newcomers.
Rethinking Game Modes
The original Splatoon shipped with 2 modes: the standard Turf War, and the more competitive ranked Splat Zones. Within the first six months, the Tower Control and Rainmaker modes were also rolled out for a total of three ranked modes, four altogether. It's already been confirmed that all of these are returning (albeit with the odd tweak here and there). Nintendo also announced Salmon Run, the horde mode so many fans had clamored for. And then there's the new, somewhat ambiguous League Battle mode where players team up in two-hour increments to accrue the most points and rival the scores of other groups.
The thing is, while Salmon Run is indeed a new mode, it's not a ranked mode. Instead, it's a separate entity akin to the story mode. So, if we look at Salmon Run as essentially taking the place of the horrible local multiplayer-focused Battle Dojo mode from the first game, we're left with the same number of game types. If Nintendo really wants to push the sequel angle with Splatoon 2, it'd be best to add at least one new ranked mode to the fray.
Speaking of ranked modes, what if the Splatoon team rethought the whole ranked/unranked formula? Imagine if Splat Zones, Tower Control, and Rainmaker all had unranked versions. That would allow unfamiliar players to practice and enjoy all of the game modes instead of never playing a couple because of the worry of losing their rank playing one that they're less adept at. Similarly, a ranked Turf War would do wonders in bringing some much-needed spice to the most-played mode of the game.
Providing a "Fresh" Single Player Experience
Splatoon's single player mode was one of the game's greatest strengths. It had wildly creative levels that did an excellent job of introducing new players to the game's mechanics before throwing them into online matches. The stages all felt unique, and each contained a Sunken Scroll that was surprisingly challenging to find. The 6-8 hour campaign ended with one of the most fantastic final boss battles for a game in recent memory. And yet, there's so much more that Splatoon 2's story mode–now dubbed Hero Mode–can deliver.
Hero Mode needs to be a substantial, stand-alone experience. It can be argued that it's only a small part of a much larger multiplayer experience, but the same could be said of ARMS, and look at how the single player content in that game was received. Splatoon 2 needs something substantial for the offline gamer, and that means Hero Mode having more levels as well as optional challenges for each. Special achievements for finishing a stage without being hit once or even time trials would go a long way in extending the life of the experience. Sunken Scrolls are already confirmed to be making their return, but those alone aren't enough.
This is the first step in remedying the old version's greatest weakness: replayability. Sure, you might've gone back and played some of your favorite levels a couple times (shout out to Invisible Avenues), but there was no real reason to touch the campaign after the initial run through. Splatoon 2 could fix this in a couple ways. For one, multiple save files in Hero Mode would be a godsend. Players gain orbs to level up their weapons and armor as they make their way through the campaign, so having an option to select a new save file would be ideal for those wanting to replay the whole thing from scratch. Alternatively, unlocking a hard version of each level after beating the final boss would also be a solid replay incentive.

The Expansion of Splatoon Lore
Lore in the Splatoon universe is purposefully subtle. The only details players learn about the origin of Splatoon's civilization and the fight against the Octarians is through the aforementioned Sunken Scrolls, giving the world an air of elusive mystery. These documents did everything from flesh out characters' backstories to explaining how Turf Wars began in the first place. Tracking them all down was one of the most rewarding parts of Splatoon's single player, and luckily they're making a return in the sequel. However, it'd be great if we had more glimpses into the lives of Splatoon's colorful cast and Inklings as a whole. The Squid Sister Stories series was a great start, and Nintendo could take it even further with a series of animated shorts supporting the game's release. The Pikmin animated shorts were wonderfully done, and seeing Splatoon 2 given the same love would be awesome. The ultimate way to expound upon Splatoon's lore, however, would be to release story-focused DLC. I'm talking DLC that allows players to go back and play as one of the soldiers in The Great Turf War. This would come complete with exclusive vintage clothing and weapon options, a Hero Mode-esq selection of stages to complete, and loads of dialogue/exclusive Scrolls to find. Though Splatoon has yet to have any paid DLC, that's definitely content that much of the Splatoon community would buy in an instant.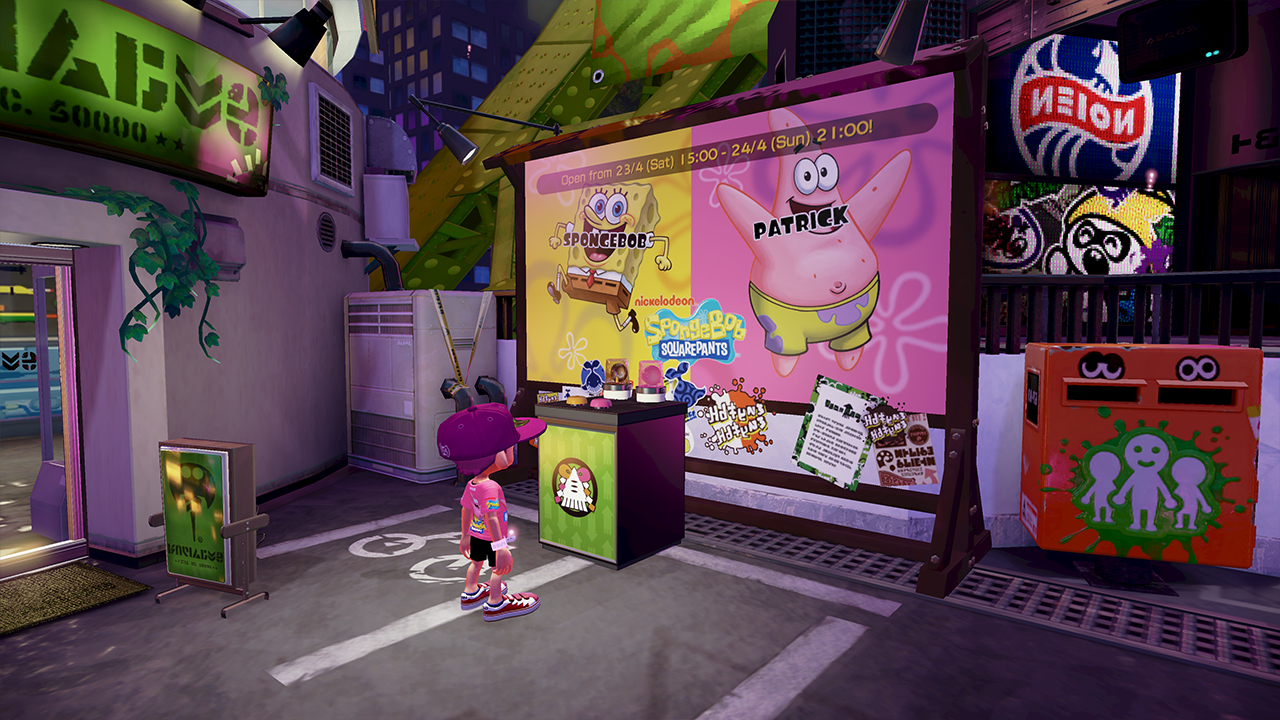 The Grand Return of Splatfests
Splatfests were the absolute best part of Splatoon, period. The themes were sometimes awesome (Pokemon Red vs. Pokemon Blue) and sometimes a bit dull (Cars vs. Planes), but players repped their team like crazy either way. The excitement around each timed event was contagious, and the special Splatfest music and nighttime versions of every map were a brilliant way of making the showdowns feel like a real holiday. Teams also stayed together for as long as they stayed in the lobby instead of being team-swapped like usual. This made for some truly great bouts of groups starting out as strangers and growing into hardened teams vying for that elusive King/Queen rank and those coveted Super Sea Snails. Needless to say, the final Splatfest was a sad day indeed for Splatoon players everywhere. So, with the spectacular Splatfests making their return in Splatoon 2, what can be improved this time around? Well, one common complaint was that the team shirts players won during the event always had to be returned by the end. The reasoning behind this was never really explained, and it would be nice to hold onto the shirts as special mementos of each event. Another tweak would be the ability to go into a Splatfest as a squad. Squads were never allowed in Splatfests, and playing with friends online during all the excitement would be great fun.
Level Cap Increase
Leveling systems have been a way to keep players coming back to games for years. The sense of progression that comes with leveling up is both addictive and enticing. In terms of Splatoon levels signify how long a player has played online, while their rank represents their skill. The first game launched with a level cap of 20 and was quickly raised to 50 a couple months later. While the Legendary Cap was a nice reward for maxing that out, avid Splatoon players were left wanting more. For Splatoon 2, a level cap raise to 100 would be amazing for a couple reasons. For one, it would continuously give players a goal to strive towards. It took well over a hundred hours to max out at Level 50, so one can only imagine how long it'd take to hit Level 100. Having that goal would keep players coming back for months if not years. Raising the max to 100 would also provide a more accurate representation of how experienced a player is as opposed to cutting that indicator off at 50. Splatoon 2 could also follow the prestige system seen in Call of Duty and have several prestiges players can hit instead of a hard level cap. This could actually be amazing if the prestige was incorporated into a special piece of clothing or special colorway.
Smaller Additions
Then there's all the small stuff that would enhance the Splatoon 2 experience. For instance, it'd be nice to be placed on a friend's team automatically when you join them in a match instead of the game shuffling you around like everyone else. Another wishlist feature? An alternate color scheme for every piece of clothing. Splatoon already had a staggering amount of customization options, and this would only push the boundaries further. Even if alternates were tied to certain levels or prestige, that would be a wonderful incentive to reach those goals. Also, I don't know about you, but I'd love arcade games to make a return in Splatoon 2. They were always fun little diversions to mess with in-between matches, and in this game, they could simply be played on a machine or arcade in the plaza. But why would anyone spend time outside of a match to play a simplistic arcade game? Two words: online leaderboards. It would give players a fun distraction while waiting to squad up with their friends, especially if they could see the scores of those friends online. And lastly, the option to customize controls is always a plus.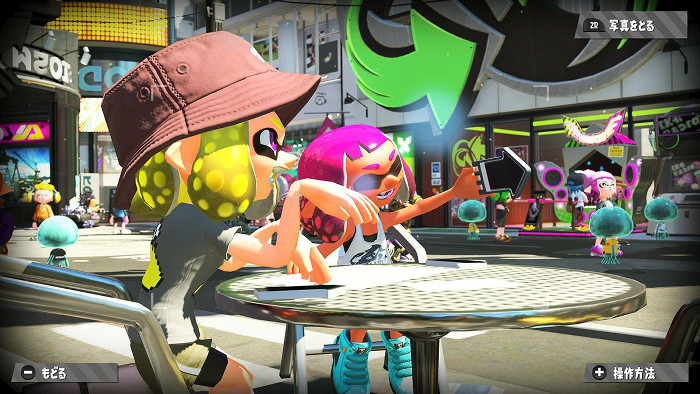 Splatoon 2 has a lot to live up to. The first game is, in this writer's humble opinion, one of the finest, most original shooters ever crafted. To top it, Splatoon 2 will have to deliver a host of improvements while also expanding on what made the original so beloved. It's a tall order, and we only have a couple weeks to see if it can deliver. Here's hoping it exceeds every one of our expectations.
What's love got to do with it? Link's 5 Best Almost Romances in 'Zelda'
Editor's Note: This article was originally published on February 14th, 2016.
****
For all the fairy tale aspects and emphasis on collecting hearts, the Legend of Zelda games aren't exactly known for getting overly lovey-dovey. Despite having two characters who are clearly meant for each other, Link and Zelda have been basically all about business over the last thirty years, putting work before pleasure. Sure, there have been the occasional sideways glances or insinuations in between killing the pig monster that's trying to take over their world, but otherwise the relationship has mostly stayed strictly platonic, full of the kind of stiff mutual respect that leads to underpopulation.
Zelda, of course, is burdened with the many responsibilities that come with running a kingdom constantly under siege by the forces of darkness, as well as presumably having to consistently fight the urge to give in to Stockholm syndrome during each of her many kidnappings. So basically, she's pretty busy, really focusing on her career right now. She's also royalty, so that's intimidating (and most likely requires a similarly noble suitor). And Link? Don't mistake his oversleeping for laziness. This guy needs his rest so he can slay monsters and push boxes that should be way too large for him to push. The Chosen One just doesn't have time to play the Hyrule Field, and frankly, just like with a superhero, it's probably best he doesn't get to close to anyone.
Still, there have been hints of love over the last few decades, with Link's opportunities extending to relationships of tenderness and awkwardness alike that have offered hope of a Happy Ever After for the hero in green. Unfortunately, he's killed fans' hopes by blowing every one of them, whether by tragic twist of fate or simply running away in embarrassment. Oh well. Here are the best of the "almosts":
Saria
Throughout all of the Zelda games, one thing has become apparent: Link doesn't really do guy friends. This trait is on full display in Ocarina of Time, but while Link may never be bros with that jealous jerk Mido, that doesn't mean he's all by his lonesome. His companionship with an actual Kokiri is clearly a deep, meaningful one, and so Saria becomes one of the most endearing characters in the game. Sure, Malon is cute in that farmer's daughter kind of way, but she seems more in love with horses than heroes, and besides, with a dad who can't take care of himself, you know the honeymoon would be short. But Saria genuinely cares. She gives Link an ocarina, a pretty cool gift if you're a forest person, and she teaches him a song so that they can always be in contact (hint, hint). Add to that the long, sad, lingering look on Saria's face as she watches her "friend" cross the bridge to adventure, and you know there was something going on.
So after defeating Phantom Ganon in the Forest Temple and revealing Saria as the Sage of Forest, her resigned acceptance that their carefree days are behind them is a bittersweet acknowledgment (and reminder) that duty will always come before happiness. Mido's revelation later that she had been waiting all this time for Link's return doesn't help with the melancholy, her unfulfilled pining just another casualty in the fight. But hey, at least she gets to hang out with a bunch of other misfits who are similarly trapped by their fated responsibility! Including…
Princess Ruto
I'm not sure that anyone has thrown themselves at Link more than Princess Ruto. As a spoiled brat being carried around inside a giant fish that ate her, Ruto develops a one-way relationship that culminates in her believing the two to be engaged when she hands over Zora's Sapphire, all while blushing profusely. These aggressive signals couldn't be any more obvious, but Link does a great job of playing it cool and clueless. She really doesn't pull too many punches though, and it's hard to explain why he doesn't bite. After all, who wouldn't want to spend the rest of their lives with someone who's rude, entitled, and bossy? So what that she's an entirely different species and any offspring would be freaks of nature?
Even when older Link meets her later, she finds time to bring up their love life amidst all the seriousness of being a very important Sage, scolding Link for making her wait so long, then explaining how she can't be with him until her duties are over. It's all hilarious until you think about what would happen if Princess Ruto ever really did get free. Sorry fish lady, but the princess for Link is in another castle.
Marin
With its tropical setting, one would think that Link's Awakening would be one of the best chances for Link to find true love, but alas, even though he meets the girl of his dreams (who even looks like Zelda!), yet again it's not meant to be. It's hard not to instantly relate to Marin and her fascination with the young lad who washed up on Koholint's shore. She has been trapped on an island her whole life, imagining a big exciting world out there beyond the vast ocean's horizon, and yearning to see it. What kid (and many adults) can't identify with that feeling? Link represents discovery, adventure, and the enthusiasm and verve she displays because of this is infectious. She definitely likes him, but does she like him like him?
Though quick to chide Link for hitting a cucco or smashing a jar, she's rather shy about her feelings, but a couple of things slip. Sitting side-by-side on a log at the beach, she reveals her deepest desires and asks to know everything about him (before awkwardly laughing the question off), and later on top of a mountain, nearly confesses something before being interrupted by her father. The game itself even seems to think Link has a shot, asking after the hero "acquires" her and holds her high above his head like a treasure he just found, "Is this your chance?"
Sadly, however, Marin's story may be the most heartbreaking of all Link's ladies. She knows that when the Wind Fish wakes up, all of Koholint, herself included, might vanish into memory. She pleads with Link that "some day you will leave this island… I just know it in my heart… …Don't ever forget me… If you do, I'll never forgive you!" Marin just wants to exist, to feel, and Link, the person who has awoken that inside her, is destined to be the one that takes that from her. Getting the best ending to the game reveals some hope that maybe these two will meet again one day, in a magical land far away.
Midna
Has Link ever had a more fully-formed relationship with anyone than what he shares with the impish former ruler of the Twilight Realm? Following the classic Hollywood arc, the two start out bickering and irritated with each other, Midna constantly hounding her wolfish companion, with Link begrudgingly powering through the pain in order to get to the princess he actually likes. Naturally then, over the course of many trials and monster-shaped obstacles, the two slowly began to develop a mutual respect and liking for each other, as tragic backstories are revealed and codes of honor are put on full display. By the end, when sassy beast turns into great beauty (a nice twist on a classic fairy tale trope), Link is left speechless (big shocker), much to Midna's delight. "What? Say something! Am I so beautiful that you have no words left?" This is called flirting, people. If I was Link's wing man he would've received a nudge in the ribs right here.
In fact, most of their interactions over the entire game comprise of her playful teasing, the type of schoolyard antagonizing that is akin to pulling someone's hair and running away. If Link's the kind of guy I think he is, these insults will only add to the liking. On top of that, her mysterious nature and later trusting openness can only strengthen the interest. Of course, what it could easily boil down to is just that really, they're the perfect match: she's funny and talks a lot, while he's well, Link.
Unfortunately, he stays true to silent form, and after a brief pause at the end where she clearly wants to admit her feelings but (I'm assuming) feels awkward with Zelda around, Midna departs back to her own dimension, never to be seen again, all because a certain green-clad idiot just stands there and lets her destroy the Mirror of Twilight (with a tear nonetheless) having never told her how he actually feels! Stupid Link! Rookie mistake, pal. Live and learn, plenty of fish in the sea, and all that crap.
Zelda
Ah, but which Zelda? Well, in the entire franchise, there are really only two with whom Link had any real chemistry beyond teaming up to save the kingdom, but the best of those is the one that wasn't even a princess. In Skyward Sword, Zelda is a happy youth, the kind of spirited person that everyone is drawn to, a force of positivity and happiness. She also has had a crush on Link for years, as the two have been particular friends since they were kids, much to the annoyance of a jealous Biff-type schoolmate of theirs. This really is the boy-next-door meets girl-next-door story that has less of a fantasy feel than the other games, feeling more grounded and accessible.
Much of this realistic feeling is owed to the amount of awkwardness between the two whenever they're left alone in the beginning and things start to get real. Zelda often fishes for compliments on her choice of clothes or weirdly, her harp, while Link stammers his way through the several "aw, shucks" responses. This is all highly endearing in a puppy love sort of way, but throughout the game we are reminded as well of how deeply these two really care for each other, with Zelda risking her life without a moment's hesitation to save Link from falling, or the goddess' plot exploiting the fact that Link would "throw [himself] headfirst into any danger, without even a moment's doubt" to save her.
Still, though there are many acts of bravery and sacrifice on both sides that outwardly prove love, the beating heart of Link and Zelda's relationship in Skyward Sword lies in the small moments, glances, and gestures that have players rooting for these two crazy kids to come through in the end. Zelda nervously folding her hands in his presence, Link's embarrassment at the implication of a kiss, the playful way she is constantly pushing him off the edge of high places and endangering his life, etc. While the end makes no guarantees, as one of only three people living on the surface, this is Link's best chance to make a life for himself outside of killing things.
Ten bucks says his "be aloof" strategy drove her straight to Groose.
***
And that's it! So, while romance has never been a main focus of the Zelda series, that doesn't mean Hyrule doesn't have a pulse. Link's made a life out of collecting hearts, and despite all the misfires with the ladies and fish ladies, Link's still young. He's just got to get back on that horse and find someone that's not his horse. After all, it's dangerous to go alone.
Though you could always choose the bottle…