What's the Difference Between 'Splatoon' & 'Splatoon 2?'
Splatoon 2 has been something of a runaway success in its first week on the market. The sequel is currently sitting at an 84 on Metacritic and reportedly sold 670,955 physical copies in its first three days in Japan alone. Comparatively, the original Splatoon only sold 156,610 copies in its first four days on the market in Japan. But has the series improved by more than just sales numbers? Let's have an in-depth breakdown of the differences between the two titles.
Visuals Boosts
Splatoon 2's visual upgrade is perhaps the most immediate and striking difference from its predecessor. From the moment you boot the game up and see the character customization screen, it's clear that there have been loads of little visual bumps that have come together to create something that truly impresses. The hub is now Inkopolis Square, and it's rendered in glorious full 1080p when docked. Though the rest of the game dynamically scales, there are clear graphical updates everywhere including sharper textures, better lighting effects, and more vibrant colors.
Speaking of vibrant colors, the ink itself looks much more like actual ink than it did in Splatoon, shimmering off the sunlight and absolutely popping off the screen. Character models in the Square and shops look noticeably more detailed and boast slicker animations. This is most obvious during the opening broadcast with Pearl and Marina, who are much better animated than Callie and Marie were in the original. From their variety of facial expressions to more subtle visual flourishes, Pearl and Marina feel way more like living, breathing characters. It's an entirely welcome upgrade that I only imagine will result in even more players getting invested in the idols (if that's even possible).
Of course, Splatoon 2 can also be played in handheld mode. The first game was rendered in 720p, and seeing Splatoon 2 shrunk down to the small screen of the Switch with that same resolution is absolutely gorgeous. It looks vibrant and runs flawlessly, joining the ranks of Zelda: Breath of the Wild and Mario Kart 8 Deluxe in really showing off the quality that the Switch's screen is capable of. It's easily one of the best-looking handheld games I've ever seen.
Gameplay Tweaks
For the most part, Splatoon's core mechanics remain almost completely untouched in Splatoon 2. However, you won't be able to just jump right back in and handle your favorite weapons with the same results. There've been several subtle changes and adjustments to the game you'll need to get used to.
Perhaps the most obvious change is the lack of a second screen to glance down at (though that didn't stop me from looking down at my Joy Con for the first 20-30 matches). Instead, you'll have to pull the map up with the X button. This ends up feeling like a serviceable solution, especially since you can pull it up and continue to play the game running in the background. However, I've noticed that it's had the side effect of causing me to look at the map much less often than I used to. Pressing a button just isn't as instinctual as glancing down at your controller. A static, translucent mini-map in a corner of the screen (with a directional button mapped to each player for super-jumping) might've been the better option.
Other changes come in the form of ability tweaks. Shockingly, Damage Up and Defense Up no longer exist. The loss of Damage Up means that weaker weapons like the Aerospray and Tri-Slosher have little-to-no use in competitive play, which is a bit of a shame. On the other hand, it also means that snipers can no longer increase the hit box of their shots by stacking it. The loss of Defense Up means that building a tank player is no longer possible; for better or worse, everyone has the same splat rate. New abilities like Thermal Ink, Object Shredder and Drop Roller allow you to see enemies you've shot through walls, destroy non-player objects faster and roll away after super-jumping, respectively. There have also been tweaks to returning abilities, most noticeably that Stealth Jump only works if you land a certain distance away from an enemy.
One final note on gameplay: This is the first time that players have been given the chance to play Splatoon portably, a dream many have had since the first game came out two years ago. So, how does it stack up in handheld mode? Well, using gyro worked for the most part, but there were definitely some issues with getting the perfect viewing angle. I'd recommend playing in tabletop mode over handheld, but it's a fun experience either way.
Mode Differences
Aside from a brand new single player campaign dubbed Hero Mode, the new modes found in Splatoon 2 are The Shoal, League Battle and Salmon Run. While The Shoal essentially replaces Battle Dojo as the local multiplayer hub, it's an absolute upgrade in every way. Instead of offering a lackluster balloon popping split-screen diversion, The Shoal basically lets players set up local Private Battles and Salmon Run sessions. Players have all the same options they'd have in Private to customize the games, including a customizable version of Salmon Run not found anywhere else.
League Battle is basically Splatoon 2's version of Squad Battle from the original. Players have to be at least rank B- in one of the Ranked modes to join a League Battle in any of them. Teams of two get grouped with other pairs so the battles are always 4v4, a departure from how Squads worked in Splatoon. One welcome change to the formula is that your individual rank isn't affected when your team wins or loses, making losing streaks with friends much less devastating. League Battle also awards medals at the end of every two hour cycle that stay on your profile, giving the mode a much more competitive feel.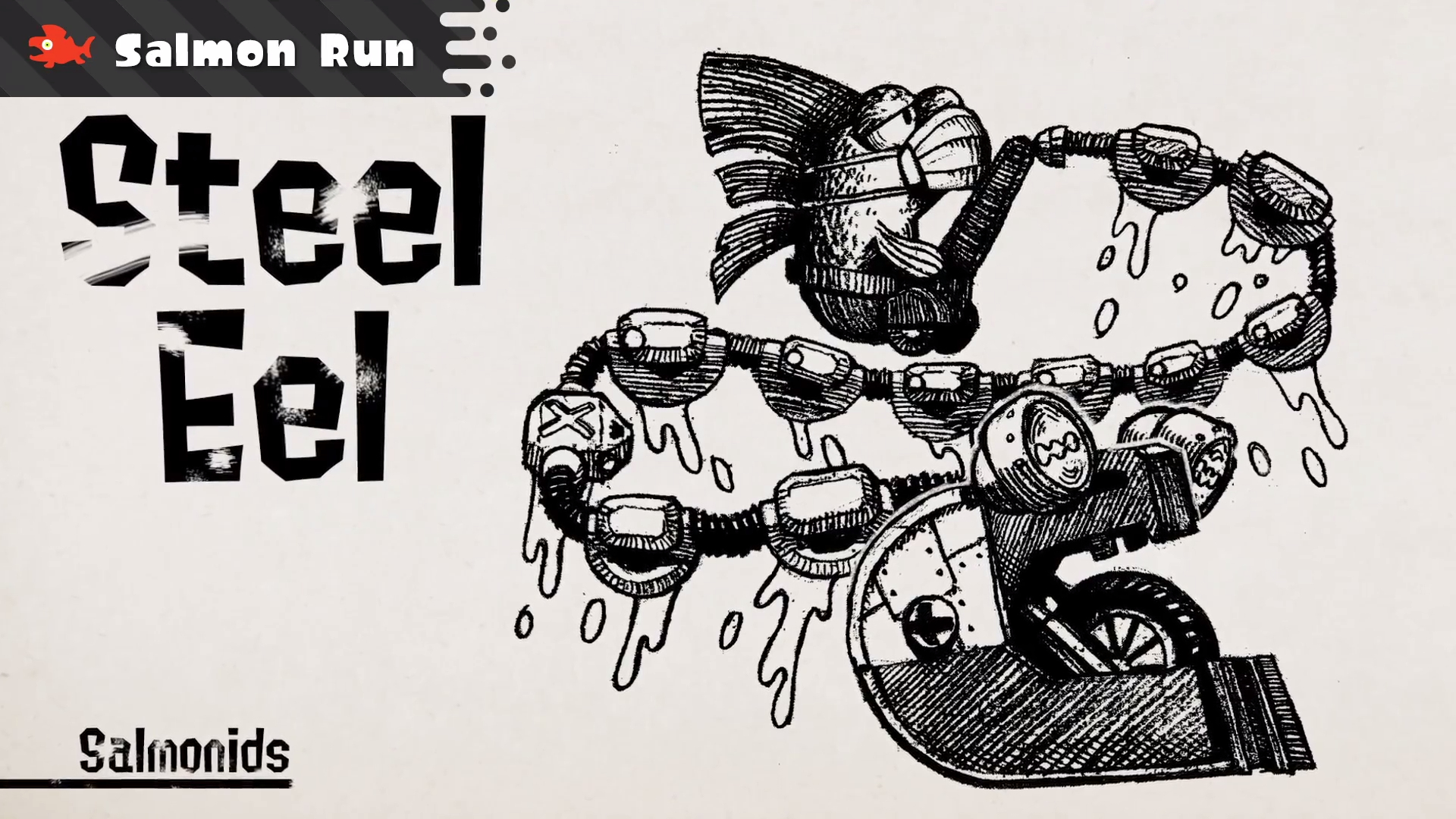 Salmon Run is the only entirely new mode introduced in Splatoon 2. This stands out for being the first PvE mode in the franchise, as well as the first co-op only mode available. The variety of enemy types coupled with a myriad of random environmental effects goes a long way in keeping each bout unique and entertaining. The daily super bonus is a really smart way to keep players coming back, offering everything from money to EXP-boosting food tickets for earning enough points in runs. All in all, Salmon Run is some of the most fun I've ever had with Splatoon. My only gripes are that it can't be played whenever you want, and it doesn't support split-screen multiplayer. That aside, it's easily one of the most attractive reasons to pick up Splatoon 2.
If it hasn't become apparent yet, Splatoon 2 has a good deal of tweaks, improvements and changes that separate it from the first entry. This isn't simply a new coat of paint (though it's that, too), it's a calculated step forward for the series. Splatoon 2 almost feels like a second birth for the franchise. Millions of gamers who never owned a Wii U are finally getting turned on to the game with the Switch. You can tell in-game by how much more competitive Turf War is now that players are really digging into the game and taking it more seriously as a shooter. Now it's just up to Nintendo to keep that momentum and excitement for the game going as long as possible.
What's love got to do with it? Link's 5 Best Almost Romances in 'Zelda'
Editor's Note: This article was originally published on February 14th, 2016.
****
For all the fairy tale aspects and emphasis on collecting hearts, the Legend of Zelda games aren't exactly known for getting overly lovey-dovey. Despite having two characters who are clearly meant for each other, Link and Zelda have been basically all about business over the last thirty years, putting work before pleasure. Sure, there have been the occasional sideways glances or insinuations in between killing the pig monster that's trying to take over their world, but otherwise the relationship has mostly stayed strictly platonic, full of the kind of stiff mutual respect that leads to underpopulation.
Zelda, of course, is burdened with the many responsibilities that come with running a kingdom constantly under siege by the forces of darkness, as well as presumably having to consistently fight the urge to give in to Stockholm syndrome during each of her many kidnappings. So basically, she's pretty busy, really focusing on her career right now. She's also royalty, so that's intimidating (and most likely requires a similarly noble suitor). And Link? Don't mistake his oversleeping for laziness. This guy needs his rest so he can slay monsters and push boxes that should be way too large for him to push. The Chosen One just doesn't have time to play the Hyrule Field, and frankly, just like with a superhero, it's probably best he doesn't get to close to anyone.
Still, there have been hints of love over the last few decades, with Link's opportunities extending to relationships of tenderness and awkwardness alike that have offered hope of a Happy Ever After for the hero in green. Unfortunately, he's killed fans' hopes by blowing every one of them, whether by tragic twist of fate or simply running away in embarrassment. Oh well. Here are the best of the "almosts":
Saria
Throughout all of the Zelda games, one thing has become apparent: Link doesn't really do guy friends. This trait is on full display in Ocarina of Time, but while Link may never be bros with that jealous jerk Mido, that doesn't mean he's all by his lonesome. His companionship with an actual Kokiri is clearly a deep, meaningful one, and so Saria becomes one of the most endearing characters in the game. Sure, Malon is cute in that farmer's daughter kind of way, but she seems more in love with horses than heroes, and besides, with a dad who can't take care of himself, you know the honeymoon would be short. But Saria genuinely cares. She gives Link an ocarina, a pretty cool gift if you're a forest person, and she teaches him a song so that they can always be in contact (hint, hint). Add to that the long, sad, lingering look on Saria's face as she watches her "friend" cross the bridge to adventure, and you know there was something going on.
So after defeating Phantom Ganon in the Forest Temple and revealing Saria as the Sage of Forest, her resigned acceptance that their carefree days are behind them is a bittersweet acknowledgment (and reminder) that duty will always come before happiness. Mido's revelation later that she had been waiting all this time for Link's return doesn't help with the melancholy, her unfulfilled pining just another casualty in the fight. But hey, at least she gets to hang out with a bunch of other misfits who are similarly trapped by their fated responsibility! Including…
Princess Ruto
I'm not sure that anyone has thrown themselves at Link more than Princess Ruto. As a spoiled brat being carried around inside a giant fish that ate her, Ruto develops a one-way relationship that culminates in her believing the two to be engaged when she hands over Zora's Sapphire, all while blushing profusely. These aggressive signals couldn't be any more obvious, but Link does a great job of playing it cool and clueless. She really doesn't pull too many punches though, and it's hard to explain why he doesn't bite. After all, who wouldn't want to spend the rest of their lives with someone who's rude, entitled, and bossy? So what that she's an entirely different species and any offspring would be freaks of nature?
Even when older Link meets her later, she finds time to bring up their love life amidst all the seriousness of being a very important Sage, scolding Link for making her wait so long, then explaining how she can't be with him until her duties are over. It's all hilarious until you think about what would happen if Princess Ruto ever really did get free. Sorry fish lady, but the princess for Link is in another castle.
Marin
With its tropical setting, one would think that Link's Awakening would be one of the best chances for Link to find true love, but alas, even though he meets the girl of his dreams (who even looks like Zelda!), yet again it's not meant to be. It's hard not to instantly relate to Marin and her fascination with the young lad who washed up on Koholint's shore. She has been trapped on an island her whole life, imagining a big exciting world out there beyond the vast ocean's horizon, and yearning to see it. What kid (and many adults) can't identify with that feeling? Link represents discovery, adventure, and the enthusiasm and verve she displays because of this is infectious. She definitely likes him, but does she like him like him?
Though quick to chide Link for hitting a cucco or smashing a jar, she's rather shy about her feelings, but a couple of things slip. Sitting side-by-side on a log at the beach, she reveals her deepest desires and asks to know everything about him (before awkwardly laughing the question off), and later on top of a mountain, nearly confesses something before being interrupted by her father. The game itself even seems to think Link has a shot, asking after the hero "acquires" her and holds her high above his head like a treasure he just found, "Is this your chance?"
Sadly, however, Marin's story may be the most heartbreaking of all Link's ladies. She knows that when the Wind Fish wakes up, all of Koholint, herself included, might vanish into memory. She pleads with Link that "some day you will leave this island… I just know it in my heart… …Don't ever forget me… If you do, I'll never forgive you!" Marin just wants to exist, to feel, and Link, the person who has awoken that inside her, is destined to be the one that takes that from her. Getting the best ending to the game reveals some hope that maybe these two will meet again one day, in a magical land far away.
Midna
Has Link ever had a more fully-formed relationship with anyone than what he shares with the impish former ruler of the Twilight Realm? Following the classic Hollywood arc, the two start out bickering and irritated with each other, Midna constantly hounding her wolfish companion, with Link begrudgingly powering through the pain in order to get to the princess he actually likes. Naturally then, over the course of many trials and monster-shaped obstacles, the two slowly began to develop a mutual respect and liking for each other, as tragic backstories are revealed and codes of honor are put on full display. By the end, when sassy beast turns into great beauty (a nice twist on a classic fairy tale trope), Link is left speechless (big shocker), much to Midna's delight. "What? Say something! Am I so beautiful that you have no words left?" This is called flirting, people. If I was Link's wing man he would've received a nudge in the ribs right here.
In fact, most of their interactions over the entire game comprise of her playful teasing, the type of schoolyard antagonizing that is akin to pulling someone's hair and running away. If Link's the kind of guy I think he is, these insults will only add to the liking. On top of that, her mysterious nature and later trusting openness can only strengthen the interest. Of course, what it could easily boil down to is just that really, they're the perfect match: she's funny and talks a lot, while he's well, Link.
Unfortunately, he stays true to silent form, and after a brief pause at the end where she clearly wants to admit her feelings but (I'm assuming) feels awkward with Zelda around, Midna departs back to her own dimension, never to be seen again, all because a certain green-clad idiot just stands there and lets her destroy the Mirror of Twilight (with a tear nonetheless) having never told her how he actually feels! Stupid Link! Rookie mistake, pal. Live and learn, plenty of fish in the sea, and all that crap.
Zelda
Ah, but which Zelda? Well, in the entire franchise, there are really only two with whom Link had any real chemistry beyond teaming up to save the kingdom, but the best of those is the one that wasn't even a princess. In Skyward Sword, Zelda is a happy youth, the kind of spirited person that everyone is drawn to, a force of positivity and happiness. She also has had a crush on Link for years, as the two have been particular friends since they were kids, much to the annoyance of a jealous Biff-type schoolmate of theirs. This really is the boy-next-door meets girl-next-door story that has less of a fantasy feel than the other games, feeling more grounded and accessible.
Much of this realistic feeling is owed to the amount of awkwardness between the two whenever they're left alone in the beginning and things start to get real. Zelda often fishes for compliments on her choice of clothes or weirdly, her harp, while Link stammers his way through the several "aw, shucks" responses. This is all highly endearing in a puppy love sort of way, but throughout the game we are reminded as well of how deeply these two really care for each other, with Zelda risking her life without a moment's hesitation to save Link from falling, or the goddess' plot exploiting the fact that Link would "throw [himself] headfirst into any danger, without even a moment's doubt" to save her.
Still, though there are many acts of bravery and sacrifice on both sides that outwardly prove love, the beating heart of Link and Zelda's relationship in Skyward Sword lies in the small moments, glances, and gestures that have players rooting for these two crazy kids to come through in the end. Zelda nervously folding her hands in his presence, Link's embarrassment at the implication of a kiss, the playful way she is constantly pushing him off the edge of high places and endangering his life, etc. While the end makes no guarantees, as one of only three people living on the surface, this is Link's best chance to make a life for himself outside of killing things.
Ten bucks says his "be aloof" strategy drove her straight to Groose.
***
And that's it! So, while romance has never been a main focus of the Zelda series, that doesn't mean Hyrule doesn't have a pulse. Link's made a life out of collecting hearts, and despite all the misfires with the ladies and fish ladies, Link's still young. He's just got to get back on that horse and find someone that's not his horse. After all, it's dangerous to go alone.
Though you could always choose the bottle…